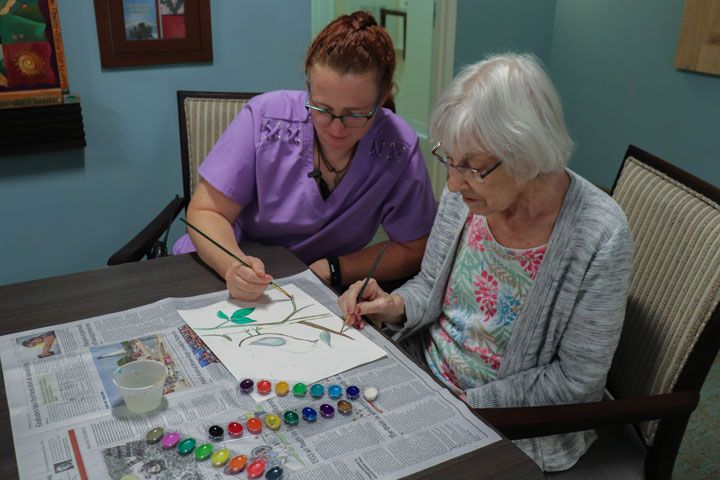 Keep Memory Care Options in Mind
Caring for a loved one with Alzheimer's or dementia can be challenging. In addition to providing around the clock care, every day activities such as running errands or completing tasks around the house can often become difficult. Adult day programs offer a guilt-free respite for the caregiver, while enriching the life of their loved one, in a safe, nurturing environment.
Adult daycare also supports the strengths, abilities, and independence of memory-impaired individuals. The Adult Day program at Masonicare at Mystic includes recreation to stimulate thinking and problem solving, and socialization. Activities include light exercise, bingo, trivia, chair yoga, puzzle club, coffee social and chronicles, watercolor painting, singalongs, and more.
In addition to engaging activities, Adult Day offers an array of services such as help with medication administration, and incontinence and personal care. Participants are also provided with nutritious snacks, meals, and hydration to ensure overall health and well-being.
Masonicare at Mystic's Adult Day program is built on growth, engagement and relationship-centered care. Specially trained staff understand the unique needs of participants and are dedicated to making every interaction a positive emotional memory. Loved ones will be safe, secure, and surrounded by a team of caring professionals.
Individualized care is top priority. Working closely with family members, meaningful relationships are created and the staff gets to know the special needs and interests of each participant. We strive to ensure their time with us is purposeful and enjoyable.
It is important to remember that individuals may need time to adjust to the experience of participating in the Adult Day program. Some may even resist going at first. However, after the initial introductory weeks, they often look forward to seeing friends they have met and taking part in new and exciting activities.
Flexible scheduling options are available for caregivers who work during the day. The Adult Day program is open 10am to 2pm, 12pm to 4pm, or 10am to 4pm, Monday through Saturday. You have the freedom to choose the schedule that is most suitable for your needs and extended hours are available at an additional cost. Transportation is also available within a 15-mile radius for a nominal fee.
The Adult Day program is a great way for both the caregiver and their loved one to get to know Masonicare at Mystic. If the time comes for permanent placement, both will feel more comfortable knowing they are in a familiar place with compassionate and caring staff. At Masonicare at Mystic, our secure Memory Care neighborhood emphasizes self-esteem, dignity, and safety in a home-like environment.
Residents in the Memory Care neighborhood enjoy three delicious and nourishing meals per day, studio style apartments, inviting common areas, and a peaceful garden. Activity areas, a hair salon/barbershop, restaurant-style dining, fitness & wellness programs, resident lounges, and a secure courtyard are all located on campus. There is a nurse on-call 24/7 as well as licensed certified nursing assistants. 24-hour security and a 24-hour emergency call system offer ultimate peace of mind.
Thinking about memory care for a loved one? Look no further than Masonicare at Mystic.
Masonicare at Mystic has been awarded the Purple Flag for Dementia Care, a best practice in memory care accreditation. The stringent application process requires fulfilment of sixty care standards based in best practices. Developed by the Purple Flag governance committee sponsored by Connecticut Assisted Living Association (CALA) the designation affords peace of mind to both current and potential residents and their families' as it signifies exemplary memory care.
Masonicare at Mystic
45 Clara Drive
Mystic, CT 06355
masonicare-mystic.org
401.216.8887