Meet the Team That Makes Masonicare Great
Masonicare is backed by a compassionate team of individuals who are hands-on in perpetuating the mission to provide best-in-class senior healthcare and residential services in Connecticut.
Rev. Carl Anderson, M.Div.
Vice President, Fraternal Relations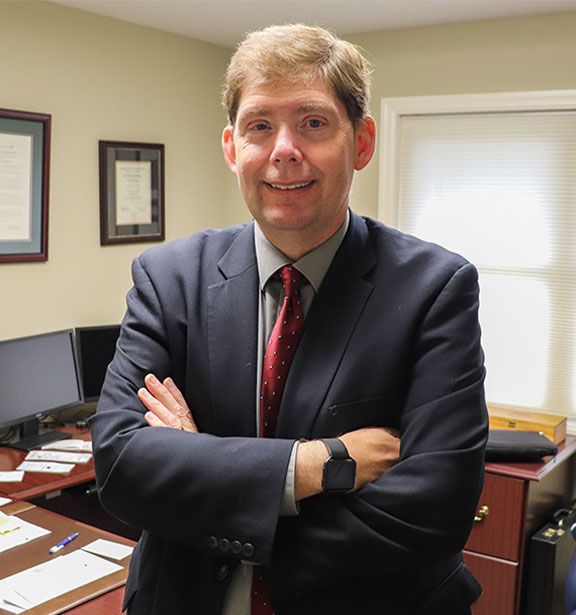 Carl is Vice President of Fraternal Relations, which encompasses all our Spiritual Services for patients and residents, relations with the Masonic family and our community benefit and social responsibility efforts. "Social responsibility" is an important part of our not-for-profit mission.
In addition to chairing Masonicare's Ethics Committee, Carl also oversees Masonicare Community Services which provides free information and outreach to seniors throughout Connecticut, helping them access various benefit programs such as Medicaid and Medicare. An ordained minister in the United Church of Christ, Carl received his M.Div. from Andover-Newton Seminary in Massachusetts. He is also a licensed Recreation Therapist and serves as President of the Eastern Star Charity Foundation.
Carl finds wisdom in this classic advice: "Go placidly amid the noise and the haste, and remember what peace there may be in silence. As far as possible without surrender, be on good terms with all persons." (Max Ehrmann)
Steven Beaulieu
Chief Financial Officer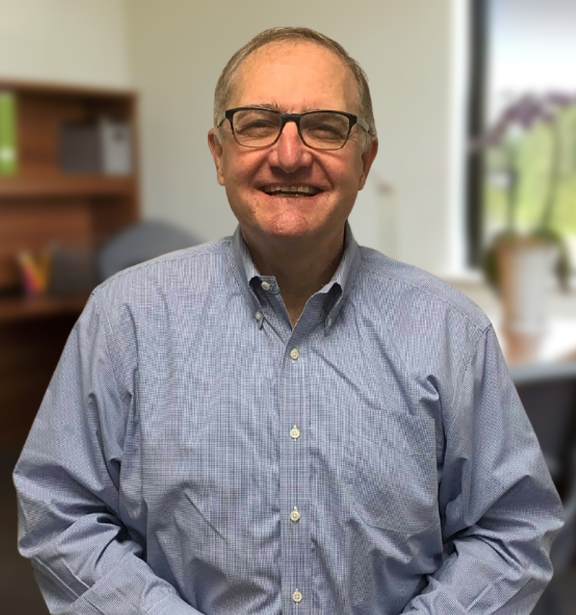 Steven Beaulieu joined Masonicare as Chief Financial Officer in October 2020. He is a former CFO of Mercy Community Health who most recently served as Vice President of Operational Effectiveness/Continuing Care at Trinity Health. Steven is also familiar with Masonicare, having previously worked in our Finance Department.
A seasoned financial executive, Steven brings a broad range of relevant experience in healthcare, senior living, long-term care, home care, and continuing care communities.
Samantha Buonanno
Executive Director, Masonicare at Home
A veteran Human Resources professional, Sam joined Masonicare in September 2008 as a recruiter. In 14 years of progressively responsible experience with Masonicare, her duties have expanded to include oversight of all recruiting for our organization. Most recently, she also directed a complete restructuring of Masonicare's new hire orientation program.
Sam understands the essential role that employee relations plays in building a culture based on accountability and shared values. This, along with her familiarity with Masonicare and existing relationships with other senior leaders, will serve her well in this new position.
Ann Collette
Chief of Strategy
Ann is our Chief of Strategy. Reporting to the CEO, she brings 28 years of post-acute and acute care marketing communications and strategic development experience to Masonicare. She leads our business and growth strategies, and oversees our award-winning marketing communications and public relations team.
Prior to joining Masonicare in February 2017, Ann was with Apple Rehab where she served as the Vice President of Business Development & Marketing Communications. A certified Respiratory Therapist, Ann has a BS in Business/Marketing Communications and an MBA, both from University of Phoenix. She is a fourth-degree black belt in Tang Soo Do, is a certified martial arts instructor and has competed and excelled internationally in the discipline.
Ann embraces these words of Norman Vincent Peale: "Change your thoughts and you change your world."
Edward Dooling
Chief of Healthcare Services
Ed is our Chief of Healthcare Services. In this role, Ed oversees our Skilled Nursing Facility, the Behavioral Health Hospital, and the Hearing Center at Masonicare Health Center. He will also continue to oversee Transportation Services. Ed's understanding of our strategic objectives and experience with organizational policy, recruitment, employee relations, and performance will strengthen our Healthcare service line.
Prior to coming to Masonicare, Ed worked in the Human Resources department at Hartford Hospital as well as Turner Broadcasting in New York.
Ed received his B.A. from Manhattan College and M.S. in Human Resources Development from Villanova University. He is a Fellow in the 2019 national Larry Minnix Leadership Academy of LeadingAge. The program enhances leadership skills and core competencies of non-profit leaders selected from the organization's membership.
Ed describes his team's role this way: "The HR Department strives to support Masonicare's greatest asset, our employees, so that they may provide the quality care and services they are known for to our patients, residents and their families."
Lauren Dubuque
Executive Director, Masonicare at Mystic
Lauren is the Executive Director of Masonicare at Mystic. Prior to her current role, Lauren was a sales counselor and later a sales and marketing manager for Masonicare. Lauren joined Masonicare after having served as Nursing Home Administrator at Apple Rehab, and prior to that as a regional dietician for Apple.
Lauren graduated from UConn with a Bachelor of Science in dietetics and later earned her certificate in long-term care management from UConn School of Business.
Donna Duff
Senior Director of Finance and Controller
Donna Duff joined Masonicare in June 2022 as Senior Director of Finance and Controller. Donna is a CPA and comes to Masonicare with extensive experience as controller for high-growth healthcare and entrepreneurial organizations. She earned a BS in Accounting from the University of Connecticut and began her career at Deloitte.
Audrey Grove
Director, CareConnect Navigator
Audrey Grove has dedicated her career to working with older Americans, as they transition through retirement and senior living. Currently, she is the Director of CareConnect Navigator Services at Masonicare, the Wallingford based not-for-profit provider of senior living and healthcare. She facilitates support groups that focus on caregiver support and family support for Independent Living, Assisted Living, Memory Care and Long Term Care Residents and their families. Through Masonicare, Audrey also coordinates a state-wide educational program for seniors and works with community partners to help craft better resources and opportunities for older Americans.
Audrey graduated from Albany University in New York with a Bachelor's degree in Communications and from The College of New Rochelle with a Master's degree in Counseling. She has facilitated support groups at New Rochelle Hospital, Yale New Haven Hospital, Fordham University, and Masonicare. She is a certified CHOICES counselor and a yoga instructor. Through her work with the CT Chapter of the Alzheimer's Association, Audrey serves on the Executive Committee for the New Haven Walk to End Alzheimer's and serves in various other positions in that Association. Audrey has appeared on WTNH and Fox 61 news as a guest speaker on caregiving, support for caregivers and guiding adult children as they help their parents make important decisions as they age.
Annie Hoefferle
Executive Director, Masonicare at Chester Village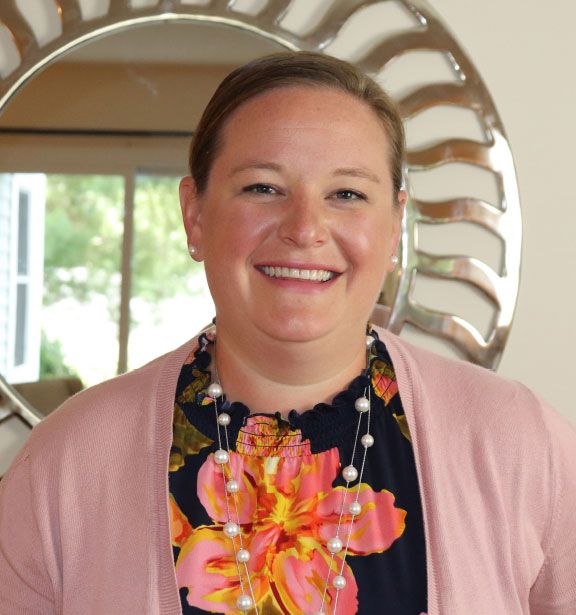 Annie is Executive Director of Masonicare at Chester Village, our newest residential community which Masonicare acquired in late December 2017. Annie joined Masonicare earlier that month from The Hearth at Tuxis Pond in Madison, where she was Executive Director. Her career in senior living also includes a stint as Director of Accounting at Mather LifeWays, a multi-site "Life Plan" community based in Illinois.
Annie graduated from Valparaiso University in Valparaiso, Indiana with a Bachelor's in Business Administration and Accounting. She was also in the inaugural group of Certified Directors of Assisted Living through Argentum, a national trade association of companies that own and operate senior living communities. Annie says without hesitation, "I have a super passion for change and for older adults!"
Jennifer King, MA, CFRE
Executive Director, The Masonic Charity Foundation of Connecticut
Jennifer is Executive Director of The Masonic Charity Foundation of Connecticut, where she leads Masonicare's fundraising and philanthropy efforts. Through Masonicare, she also offers philanthropy consulting to help nonprofits expand their fundraising programs.
Prior to her twenty years here, she was Director of Development at Waterbury Hospital and has worked in fundraising at Yale University and Wesleyan University. Jennifer received a BA in English Literature from Cornell University and her MA in Philanthropic Studies and Nonprofit Management from Indiana University.
She has served as Statewide Co-Chair of Leave A Legacy Connecticut; a Subject Matter Expert with CFRE International, a member of the Leadership Institute of the Partnership for Philanthropic Planning, and as a board member of the Connecticut Chapter of the Association of Fundraising Professionals, the Planned Giving Group of Connecticut and the Connecticut Food Bank. Jennifer is a registered yoga teacher with the Yoga Alliance and leads yoga and meditation classes for the residents of Masonicare at Ashlar Village as well as for students in the community.
Rachael Laudano
Executive Director, Assisted Living, Masonicare at Ashlar Village
Rachael is Executive Director, Assisted Living, Masonicare at Ashlar Village. Previously, she was the Senior Director of ALSA Partnerships overseeing partnerships throughout Connecticut to provide Assisted Living Services in senior residential communities.
Rachael joined Masonicare in 2015 as a Medicaid Billing Supervisor in the Finance Department. Her career also includes a management role in a home care agency. She has an A.S. degree from Middlesex Community College and her B.S. in Studio Art from Southern CT State University.
Currently a fellow of the LeadingAge Connecticut Leadership Academy, Rachael says, "My hope is that I can make a difference in the way we provide care to elders."
Kim Magalhaes
Executive Director, Independent Living, Masonicare at Ashlar Village
Kim Magalhaes serves as the Executive Director, Independent Living at Masonicare at Ashlar Village, our Continuing Care Retirement Community in Wallingford, CT.
Kim received her B.S. in Healthcare Administration from Charter Oak State College and joined Masonicare in 2010. Kim is also a 2014 alumnus of LeadingAge Connecticut's Leadership Academy.
Kim modestly quotes the 1998 Nobel Peace Prize recipient, John Hume: "I never thought in terms of being a leader. I thought very simply in terms of helping people."
Courtney O'Sullivan
Long Term Care Administrator, Masonicare Health Center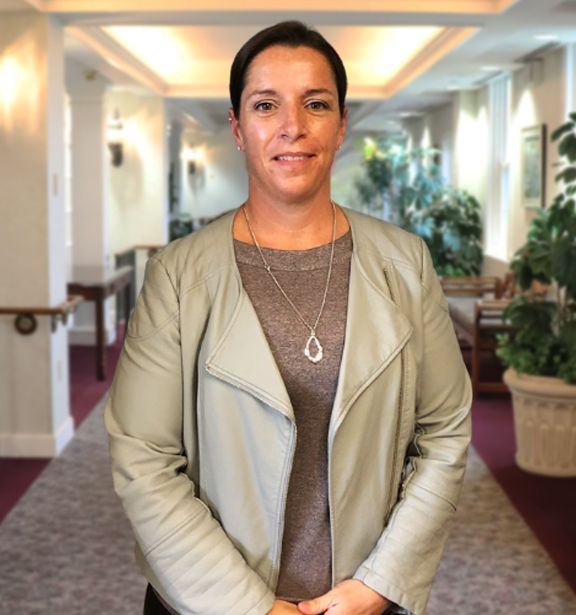 Courtney joined Masonicare as Masonicare Health Center's new Administrator in September 2020. Courtney brings valuable prior experience in multiple facets of the long-term care industry, including administration, admissions, marketing, and recreation.
A licensed nursing home administrator, she holds a Bachelor of Science in Therapeutic Recreation from St. Thomas Aquinas College and her Nursing Home Administrator License from the University of Connecticut School of Business.
Ann Olson
Executive Director, Masonicare Home Health, Hospice & Palliative Care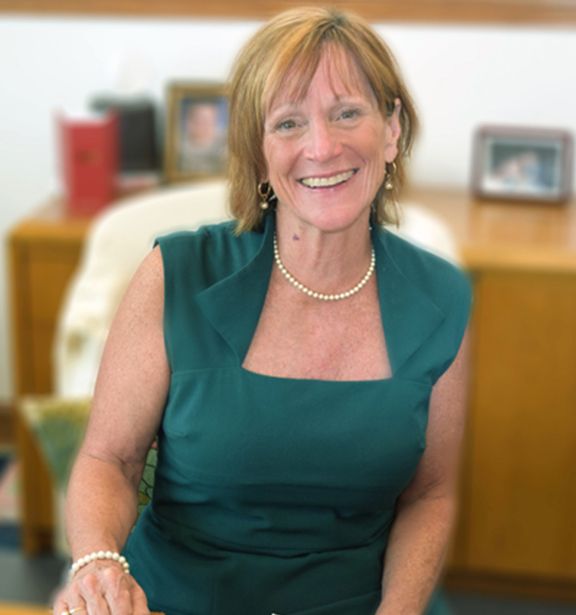 Ann is the Executive Director and Administrator of Masonicare Home Health & Hospice, a state-licensed, Medicare certified agency that provides comprehensive, specialized and high quality skilled care to patients in the comfort of their own home. With offices in Danielson, Derby, East Hartford, Mystic and Wallingford, her diverse team of nurses, rehabilitation therapists, social workers, personal care aides, spiritual counselors and volunteers make more than 200,000 patient visits a year.
Based in the Wallingford office, Ann joined Masonicare in December 2020. She most recently was with Hartford Healthcare at Home where she served as the Vice President of Hospice and prior to that, was the President and CEO of Visiting Nurse Services of CT. Ann earned her BS in Nursing from St. Anselm College and her MBA from Post University.
Brian Richard
Chief Information Officer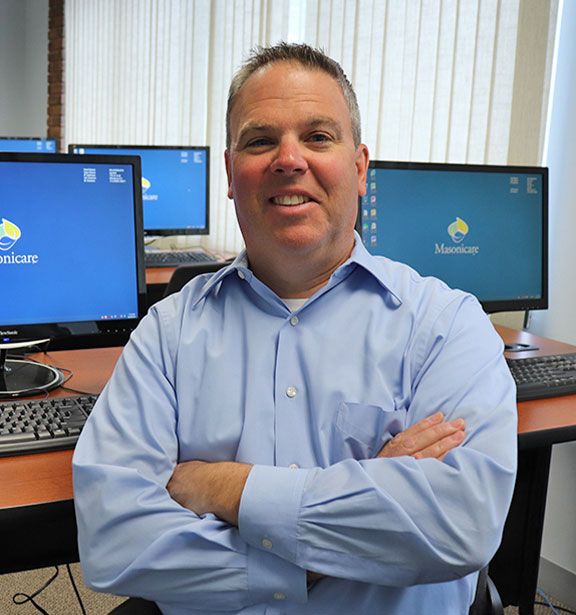 Brian joined Masonicare as Chief Information Officer in January 2015. As the head of the Information Technology (IT) department, he oversees all systems, software, hardware, telecommunication and cybersecurity for Masonicare. Brian is a champion for cultural change and technology innovations that properly align and integrate IT as a partner in the business of the organization. Applying this technology to improve patient and resident care, gain operational efficiencies and increase revenues is a challenge for which he has a passion. He is also committed to building and motivating a team where every member is inspired by this mission.
Brian has over 26 years of IT Healthcare-related experience. He is a graduate of Anna Maria College in Massachusetts, where he received his BS in Business Administration.
Anneliese Rosenstein
VP, Human Resources
As vice president of Human Resources, Anneliese will supervise all aspects of HR, including recruitment, policy, compensation and benefits, resource management, and employee relations.
Since joining Masonicare in October 2018, Anneliese has emerged as a strong and capable leader in planning and directing the overall design, implementation and administration of our benefits and Wellness Program offerings, all with an eye toward helping our employees and their families live their best lives. She was also instrumental in streamlining our payroll process, making it more efficient and employee-friendly.

Ronald Schwartz, M.D.
Senior Director, Continuum Health Services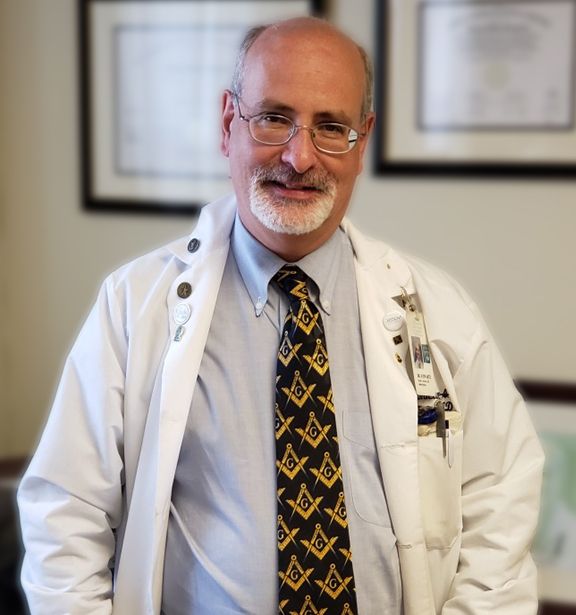 As Senior Director of Continuum Health Services, Dr. Ronald Schwartz will oversee all of Masonicare's healthcare and hospice services across all service lines.
He is also the primary care physician at Masonicare at Ashlar Village. Dr. Schwartz has been associated with Masonicare since 1995, when he was hired as a staff geriatrician at Masonicare Health Center. Named Medical Director in 2000, he continued in that capacity even after joining West Haven Medical Group in 2017. Most recently, he has also been a valued member of Masonicare's Coronavirus Task Force.
Dr. Ronald Schwartz is board-certified in Internal Medicine, Geriatric Medicine, and Hospice and Palliative Care Medicine. He serves as Assistant Clinical Professor of Medicine at both Quinnipiac University School of Medicine and the University of Connecticut, School of Medicine. He is a Fellow of the American College of Physicians and a Fellow of the American Geriatric Society, as well as a Certified Medical Director for Long Term Care.
Jon-Paul Venoit
President and Chief Executive Officer
Jon-Paul (known as JP) became President and Chief Executive Officer of Masonicare on October 1, 2016. His career at Masonicare began when he was in high school working as a waiter at Ashlar Village. From that modest beginning, he took on many roles of increasing responsibility over more than 25 years.
JP has his B.S. in Finance and Insurance from the University of Hartford. He earned his Retirement Housing Professional license in 2003 from the University of North Texas, and a Leadership AAHSA [now LeadingAge] Fellowship certification in 2007.
JP currently vice chairs the Wallingford Planning and Zoning Commission and serves as Commissioner of the Wallingford Ethics Committee. He is a former chair of the Wallingford Education Foundation and former chair of Connecticut Assisted Living Association Board and their Institute for Senior Living Education. He is also a past surveyor for the Continuing Care Accreditation Commission (now known as CARF) and was recently elected to serve on the Board of LeadingAge's Connecticut Chapter.
JP's favorite quote is, "Don't be afraid of change. Be afraid of not changing."