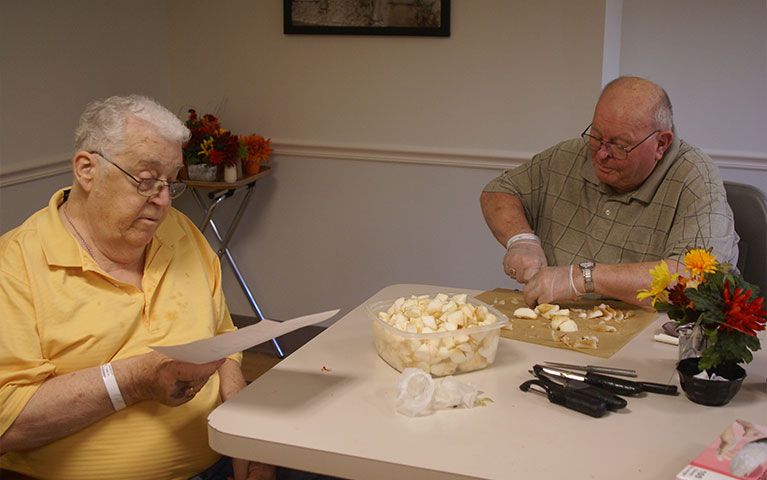 12 Tips for Happy and Healthy Aging Seniors
The New Year can be an exciting time for fresh starts and new beginnings. A great goal is to recommit to your overall well-being. Focusing on this can sometimes be difficult, especially at first, but by staying the course and setting yourself up for success,you can achieve anything you put your mind to. We've put together a list of tips to help you feel your best in the new year.
Eat food that gives you energy
Your body has been a faithful companion since the beginning and deserves to be treated as such. This year, choose foods that give you energy and make you feel happier both inside and out. Healthy fats like olive and coconut oil, leafy greens and foods lower in processed sugar will help you maintain a healthy weight and steady energy levels.
Embrace exercise
Find a physical activity you enjoy and make it a part of your regular weekly routine. Gentle exercises like walking or water aerobics are kind to the joints and will help improve flexibility and release plenty of endorphins. If you feel adventurous, take a look at the classes at your local health club. Many clubs offer health programs for seniors such as Silver Sneakers at a discounted rate.
Get plenty of sleep
Getting enough sleep improves one's mood and increases energy levels. While your sleep patterns change as you age, the CDC still recommends getting between 7 and 8 hours a night to feel your best.
Join a book club
If you love reading, a book club is a fantastic opportunity to spend time with others, engage in healthy discussion and read outside of your preferred genre. Check the local library or community center for a book club in your area or start your own.
Take a class at a local college
You might have left the hectic workplace behind, but you still need to challenge your mind by exploring new areas of interest. Learning new things is a crucial exercise for the brain to keep it flexible, improve your memory and help keep Alzheimer's and dementia at bay.
Meditate
Regular meditation is proven to reduce stress and increase longevity. There are lots of different types of meditation, from simple breathing exercises to guided and mindful meditation. Try a few different types until you discover something that works for you.
Sit down with your favorite brainteaser
Puzzles like Sudoku, a game of trivia,or the Sunday crossword puzzle can help strengthen your brain. Researchers found that older adults who take the time to enjoy brain challenging activities on a regular basis tend to have a lower risk of dementia than those who do not.
Get regular medical check-ups
Regular visits to your physician are an essential part of staying healthy at any age and may help prevent illness by catching any symptoms early. Stay current with vaccines including those for flu, pneumonia and shingles.
Make time for yourself
Making time for the things you love, whether that's going for a long walk, watching a movie or engaging in your favorite craft or hobby can provide enjoyment, as well as a sense of personal satisfaction.
Volunteer
Join a local community or charity that you are passionate about and volunteer your time. Spending time with others while serving the community can increase our sense of joy and is a fantastic opportunity to meet new people and make friends.
Say goodbye to habits that don't bring you joy
We've all got a few habits that we keep up even though they don't make us happy. Whether it's smoking, overeating or negative thinking, leaving these habits behind will help improve your overall health and happiness.
Try new things
Breaking out of our routines every now and then for a new adventure stimulates the mind and body. Choose something you've always wanted to do: a ballroom dancing class, painting, a hike, that new restaurant in the neighborhood, and try it.
Make 2018 the new year a great one for you!
Looking after your overall wellbeing is important at any age.And, for aging adults, it's never too late to introduce beneficial habits into your daily life.By eating right, getting enough exercise, challenging your mind, and exploring new interests –you're setting the course for a healthy and happy new year.
At Masonicare, our senior living communities offer a carefree lifestyle with plenty of social, educational and recreational opportunities for our residents to enjoy life to the fullest.
Come explore us in person and see all the Masonicare can offer you, too!